Social Lab Discovery
Debrief
What do we mean by "Product Discovery"?

When a product visionary wants to work with us to bring his or her ideas to life, we conduct a "Discovery" exercise to understand, analyse and validate their vision and translate them into artifacts like screen mockups, epics, and stories with project estimates & architecture suggestions. This discovery exercise usually takes a week depending on the complexity of the idea.
Rahul Juware, founder of Social Labs approached us with a vision to redefine the way recyclable plastic is processed in India. He envisioned a software platform where recyclers, scrap dealers, and manufacturers could collaborate to better track and trace collected waste, and further recycle them.
As with any other engagement in Tarka Labs, we suggested that our discovery team would spend 3 days to get into the details of his idea with the following outcomes at the end of this exercise. We promised to:
Nurture and validate the founder's early idea into a detailed action plan, with a well designed system
Create personas to represent the different actors of the end system
Create user flows to capture all possibilities and business cases
Build low-fidelity screen mock-ups to transform the user flows to user interactions
Create epics and break them down into stories to gauge the size of the development effort
Identify parallel streams of development in epics and stories, estimate them (we used t-shirt sizes) and create a realistic project plan
Draft an extensible data model to meets the current needs of the project
Following a go-ahead from the client, we kick-started the discovery phase with Sudhakar (Principal Consultant), Harman (Lead Consultant) and Gopi Raja (UX & UI Designer) as part of the team.
Our Approach
Understanding the scope
Armed with white charts, markers, and sticky notes, we kicked off an initial discussion with the founder to extensively document his product idea.
We ran focused daily sessions of 2 hours (per day) to discuss, brainstorm, and decide on different functional aspects of the platform.
Being part of a discovery team is at once inspiring and exhausting. Our deep discussions yielded deeper clarifications, and over the course of our sessions, we managed to pin essential workflows and details on the drawing board. So much so that we almost lost track of time and ended up staying atleast a couple of hours longer than planned each day.
At the end of 3 days, our team came out victorious with greater clarity and a stronger understanding of the scope and shortcomings of the envisioned idea.
The Artifacts
During the discussions, our consultants constantly took notes and sketched out flows on the whiteboard to create the following artifacts.
Goals, Workflows & Personas
Our first step was to understand the goal of the system, drill down into different work flows, finally identify the actors in the system, and their intentions and interactions. We charted these out and improved the goals, workflows, and personas over the course of three days.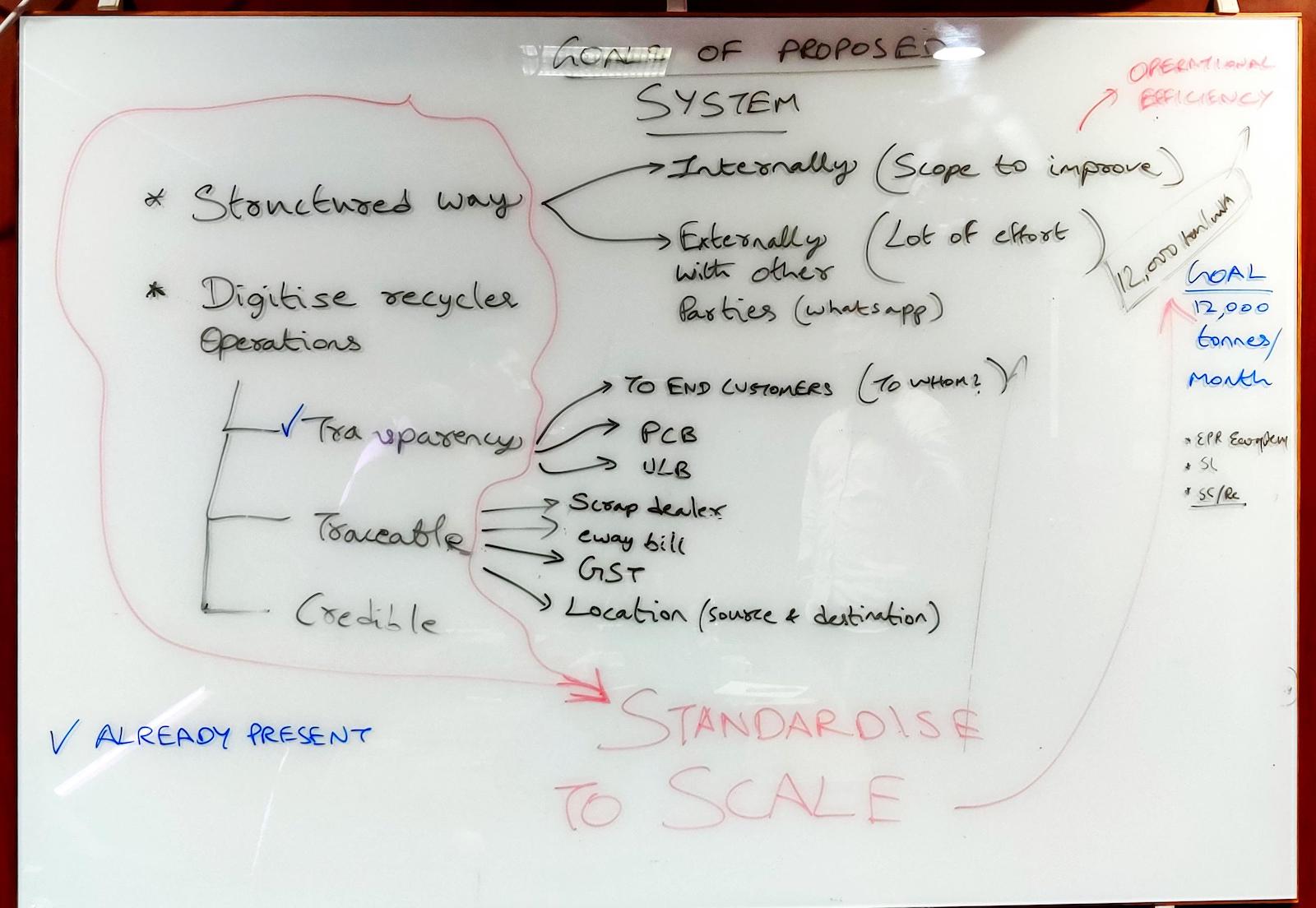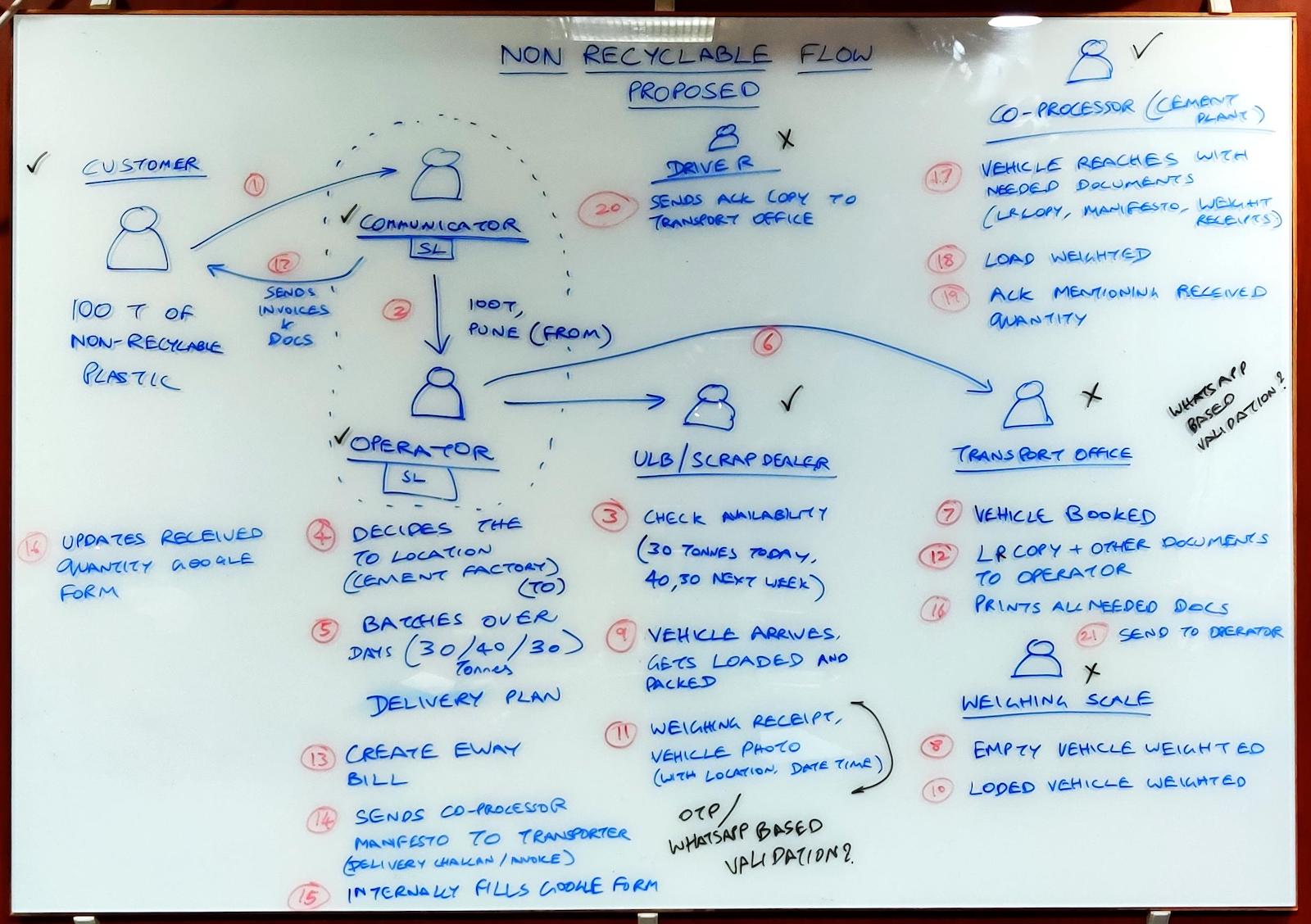 Screen Mockups
Early into our discovery process, we realised that there was a clear need for a web app (for Administrators and Suppliers) and a mobile app (for recyclers and scrap dealers).Based on our defined user interactions and their sub-goals, we were able to create mock screens and design flows that could help users achieve their goals better.
We digitally created mockups at the end of the discovery process, and came up with the below ideas.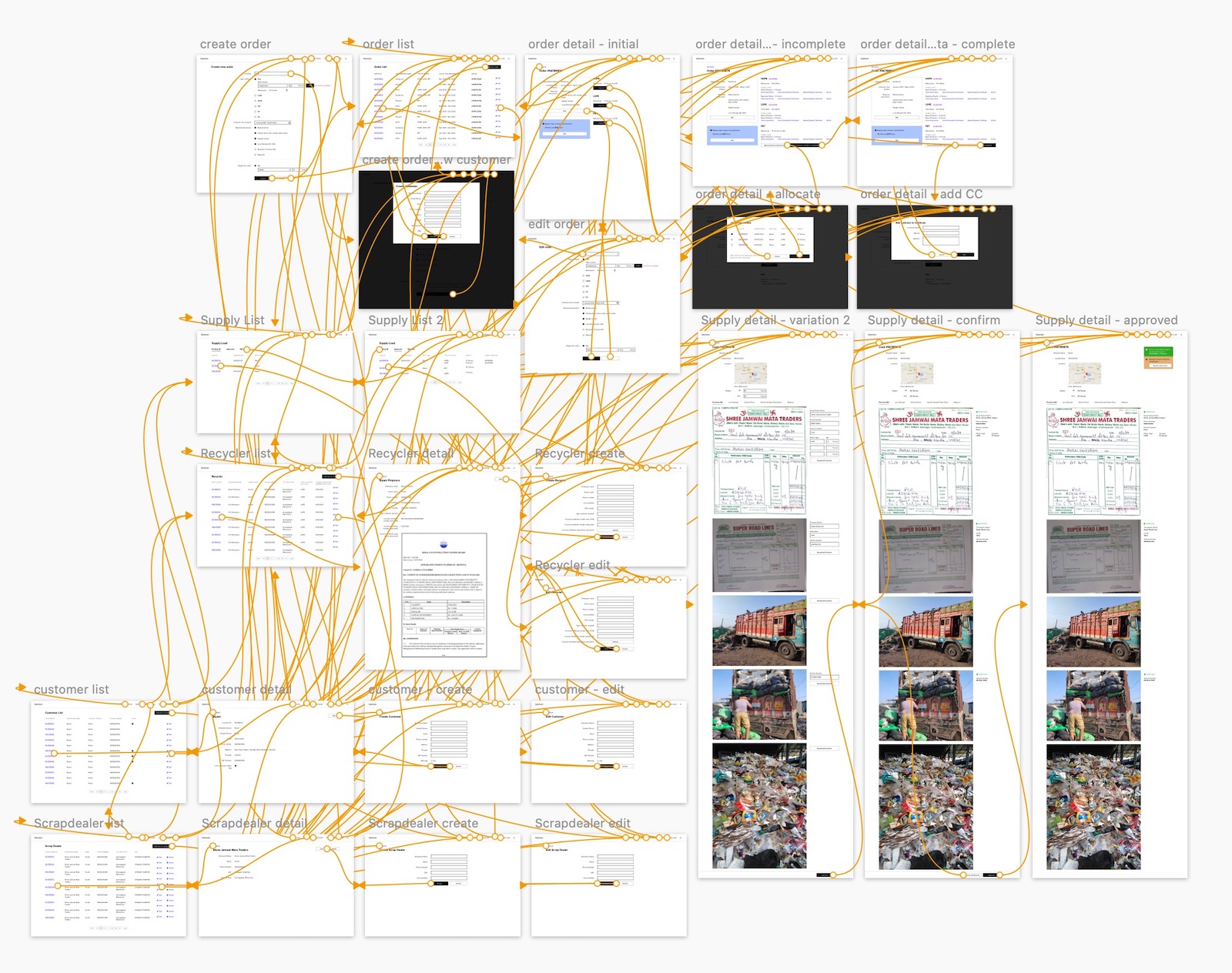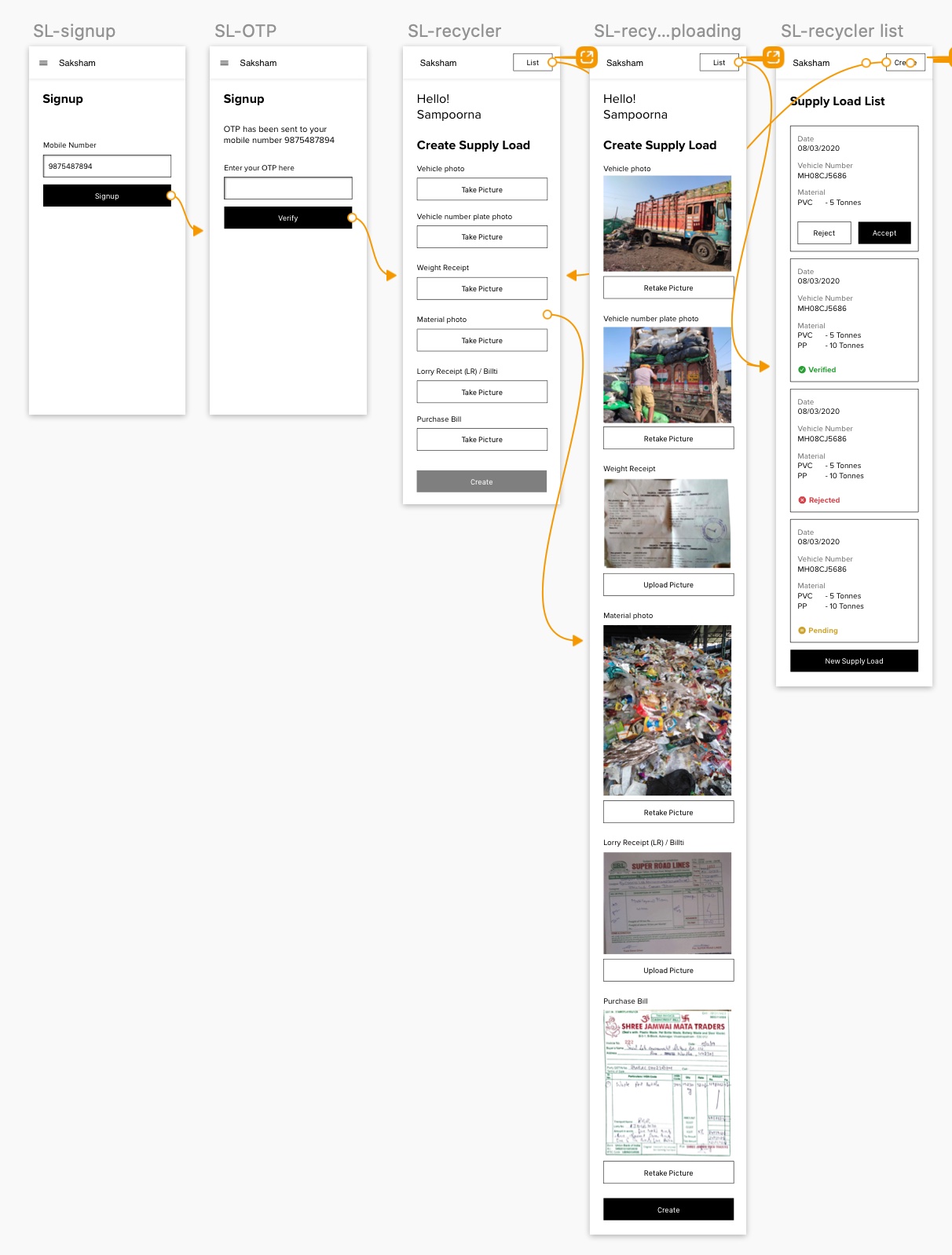 Epics & Stories
Once our user flows were nailed down, we moved on to the next logical step of identifying epics and breaking them down into smaller epics and their constituent stories. As part of this process, we added our best guesstimates (relative sizing of cards) based on T-Shirt sizes (S, M, L, and XL) on the effort involved in achieving these objectives. Cards that were bigger than XL were further broken down with details, to simplify their scope.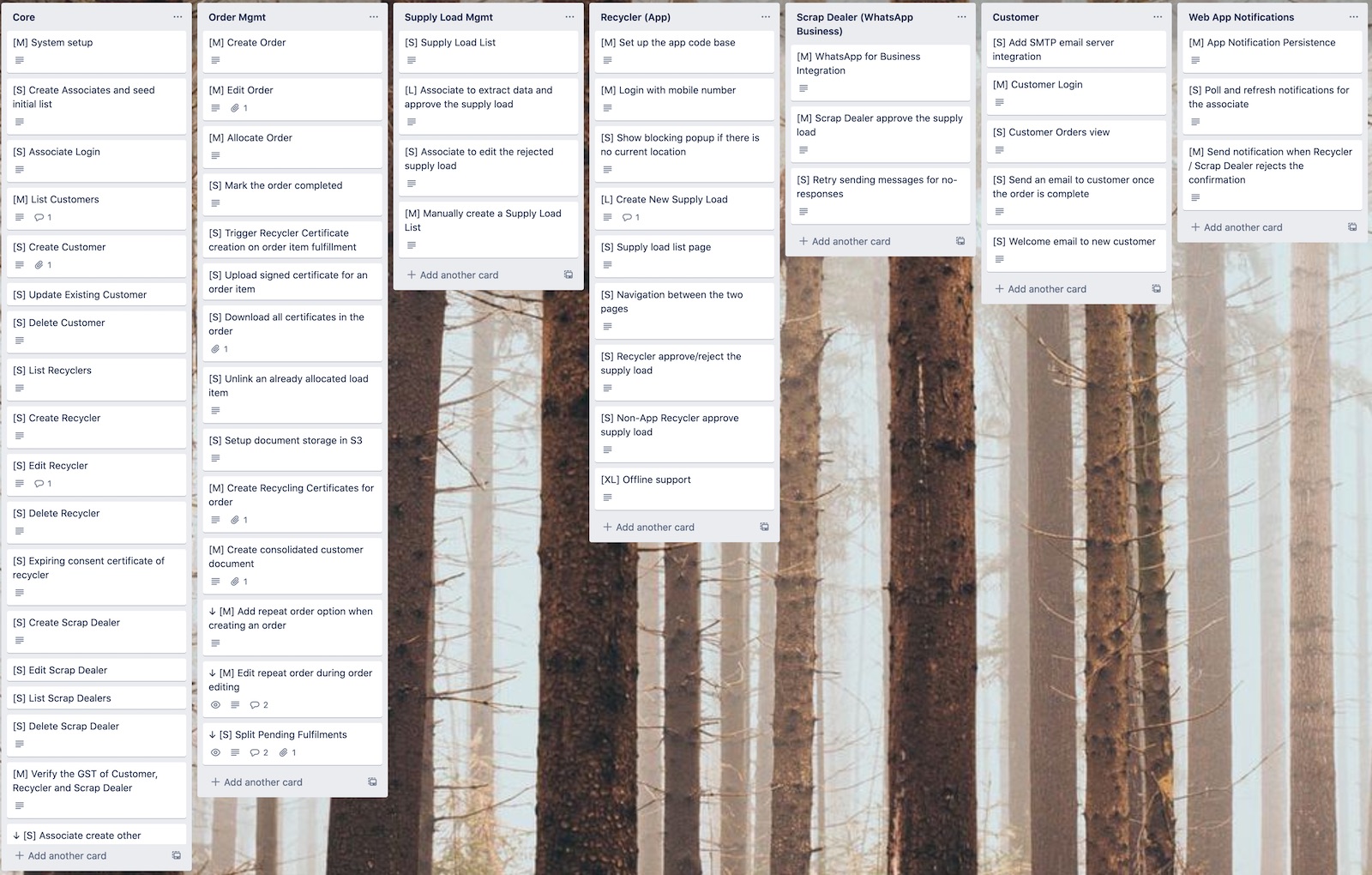 From here, it was quite easy for the team and the founder to understand the effort that it would take to bring the product idea to life. Based on the possible parallel development streams, we also came up with a range to estimate the cost of building the product.
In Retrospect
Overall, the discovery engagement was executed almost as planned. Rahul was happy with the exercise, as it gave him and his investors absolute clarity on the cost, effort, feasibility, and complexity of implementing the product idea.