Social Lab Discovery
Kickstarting
What do we mean by "Discovery"?

When a product visionary wants to work with us to bring his ideas to life, We conduct a "Discovery" exercise to understand, analyse and validate their vision and translate them into artifacts like screen mockups, epics and stories with project estimates & architecture suggestions. This discovery exercise usually takes a week depending on the grandness of the idea
Rahul Juware, Founder of Social Labs has approached us with a vision to redefine the way recyclable plastic is processed in India. He envisioned a software platform where recyclers, scrap dealers and manufacturers can collaborate for better tracking and traceability of collected waste and recycling them
Like with any other engagement in Tarka Labs, We suggested to spend 3 days with our discovery team to get into the details of his idea with the following promise at the end of this exercise
Founder's idea which is mostly in his mind will be discussed in detail to validate and consolidate his thoughts to design the system
Create personas to represent different actors of the system
Create user flows to capture the business cases
Build low-fidelity screen mock-ups to transform the user flows to user interactions
Create epics and break them down to stories level to get guage the size of the development effort
Identify parallel streams of development in epics and stories, Estimate them (we used T-Shirt sizes) and come up with a realistic project plan
Draft an extensible data model that meets the current needs
We got a go ahead with this plan and kick started our discovery phase with Sudhakar (Principal Consultant), Harman (Lead Consultant) & Gopi Raja (UX & UI Designer)
Approach
Understanding the scope
We got our meeting room ready with white charts, markers, stickies and all the tools needed to express, ideate and clarify. And we kickstarted the discussions with the materials the founder has to explain his product idea.
Everyday, From 9am to 6pm, We ran focussed sessions of approx. 2hrs each to discuss, brainstorm and decide on different aspects of the platform.
Almost all the days, We were so deep in discussions and in getting clarifications and correcting on the drawing boards to make them consistent and were nailing down as much details as we could, we almost forgot what time it is and ended up staying atleast a couple of hours longer than planned.
At the end of 3 days, We as a team came out victorious with a better clarity and clear understanding of the scope and shortcomings of the envisioned idea.
Artifacts
During the discussions, We were constantly taking notes and drawing the flows on the white boards and this information along with our understanding, We started created the following artifacts
Goals, Workflows & Personas
Our first step was to understand the goal of the system and then drill down to different work flows and finally to identify the actors in the system and their interactions. We charted them out and improved it as we went along over the course of three days.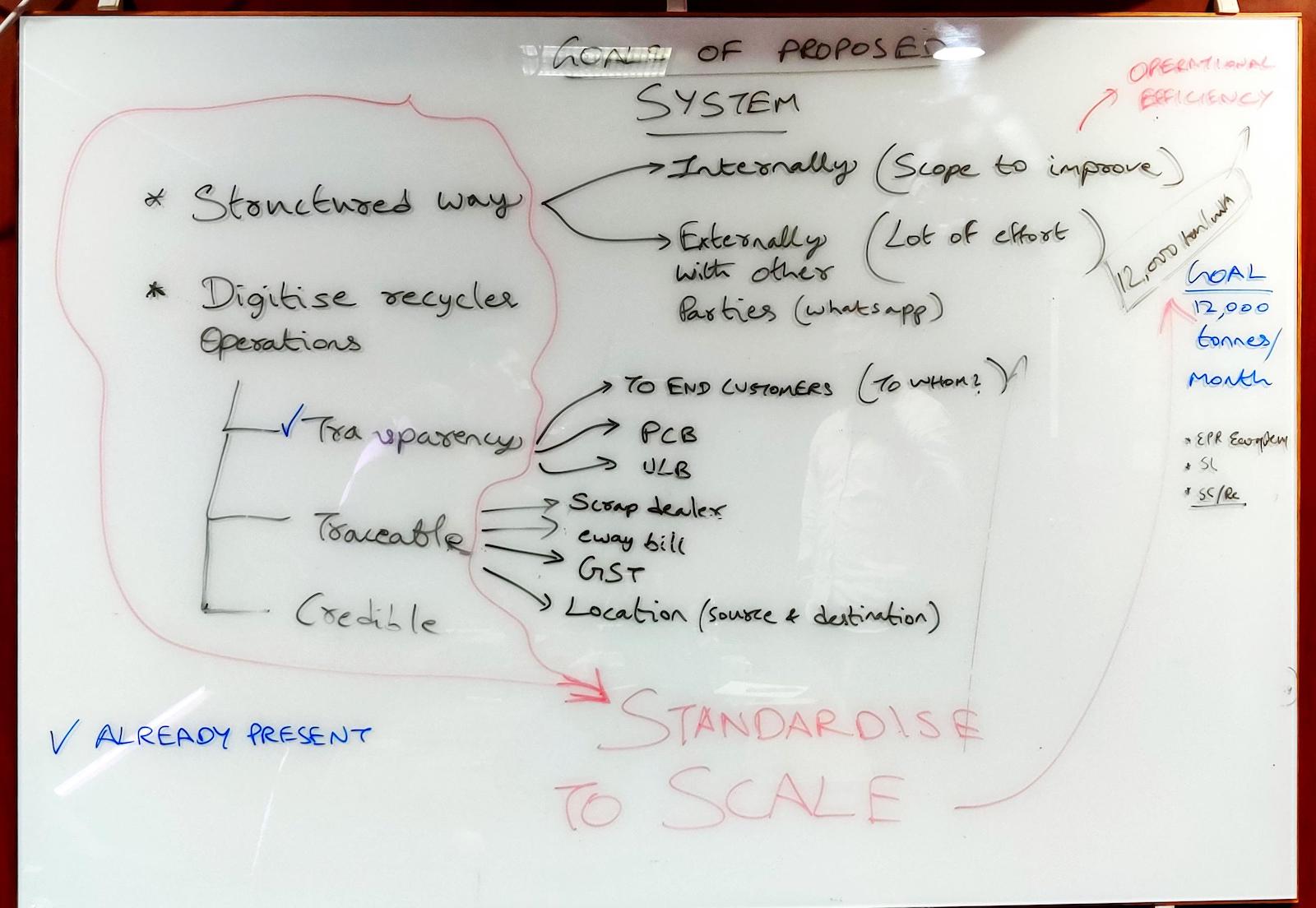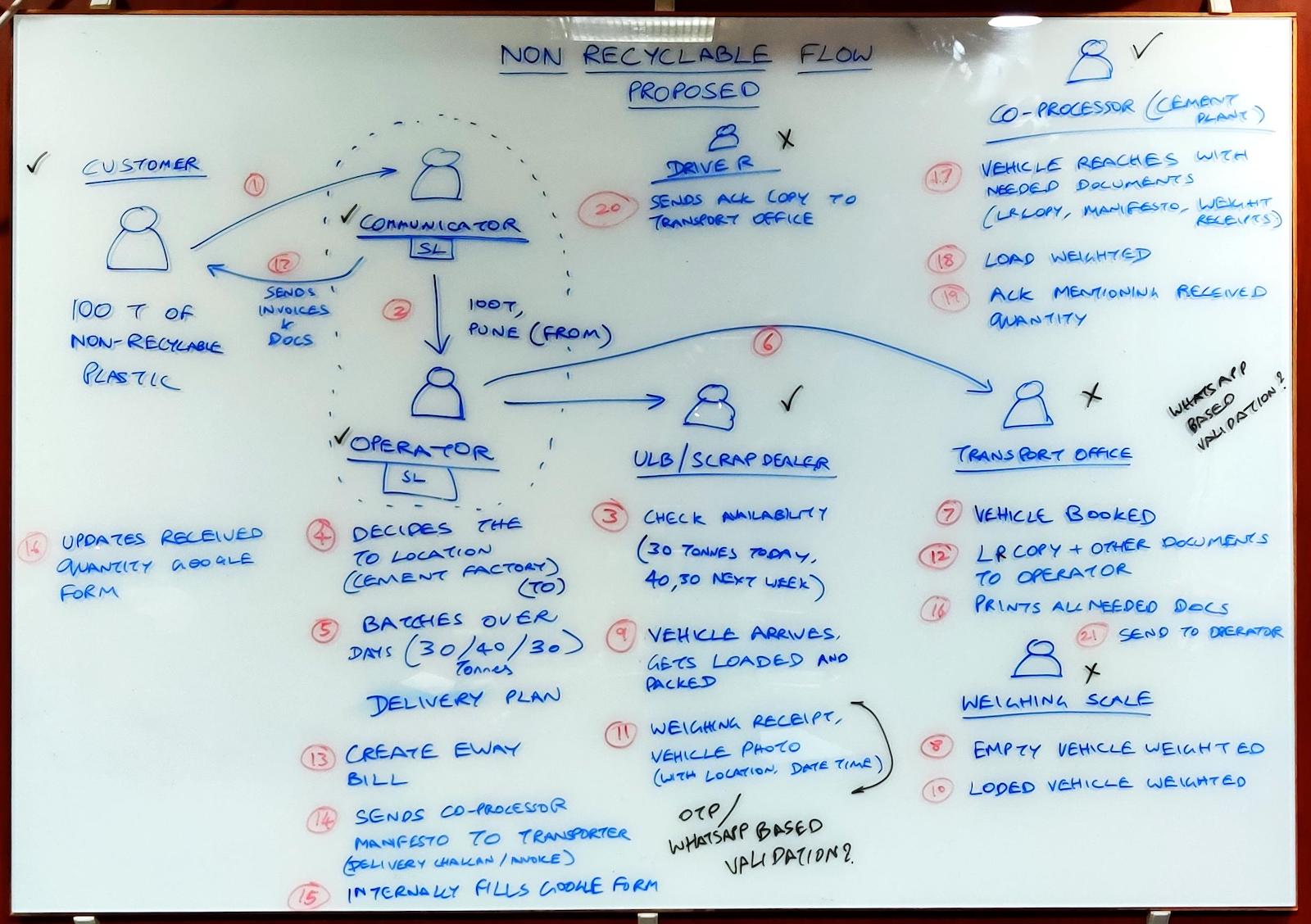 Screen Mockups
Very soon in discovery, We realised that there is a clear need for a web app (for Administrators and Suppliers) and a mobile app (for recyclers and scrap dealers) and based on the user interactions and their sub-goals, We were able to create the user screen flows and designs to enable the user to get to achieve his goals easier
At the end of the discovery and after spending lot more time to digitise it to sketch mockups, we ended up with the following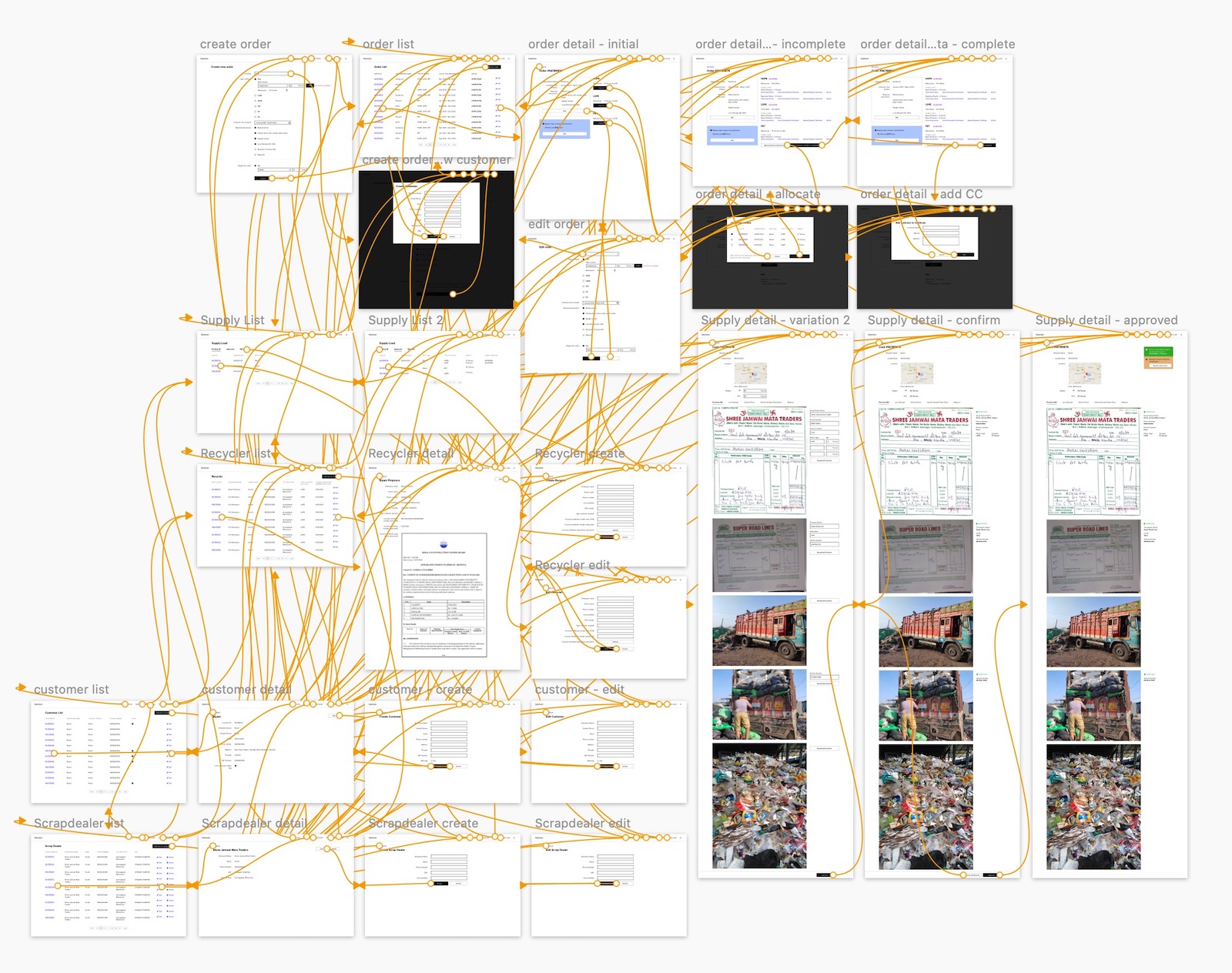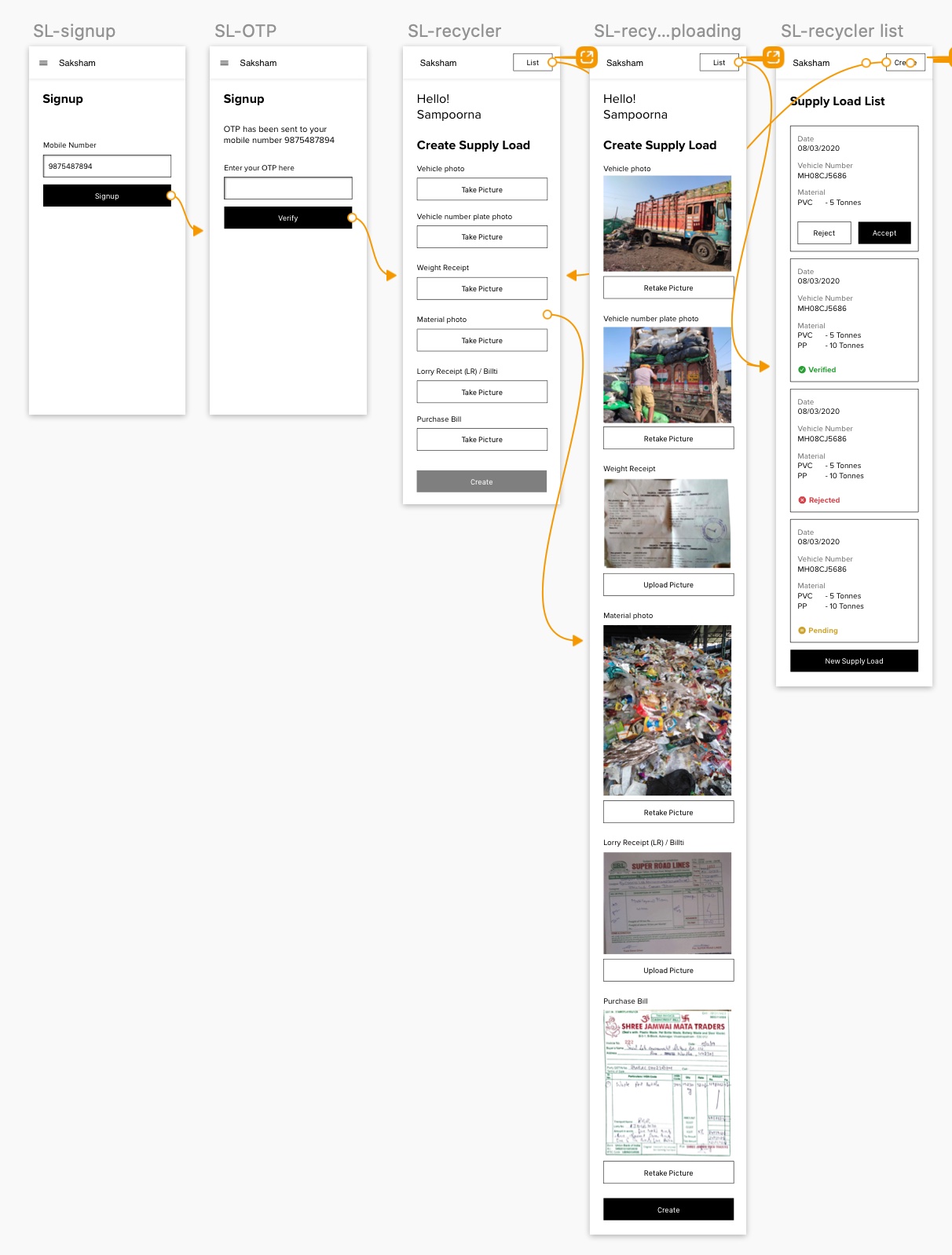 Epics & Stories
Once we got the user flows nailed down, We got to the next logical steps of identifying epics and broke them down to smaller epics and its constituent stories. We also added our best guess estimates (relative sizing of cards) based on T-Shirt sizes (S,M,L,XL). Any card bigger than XL, we further broke it down with details so that their scope is clear.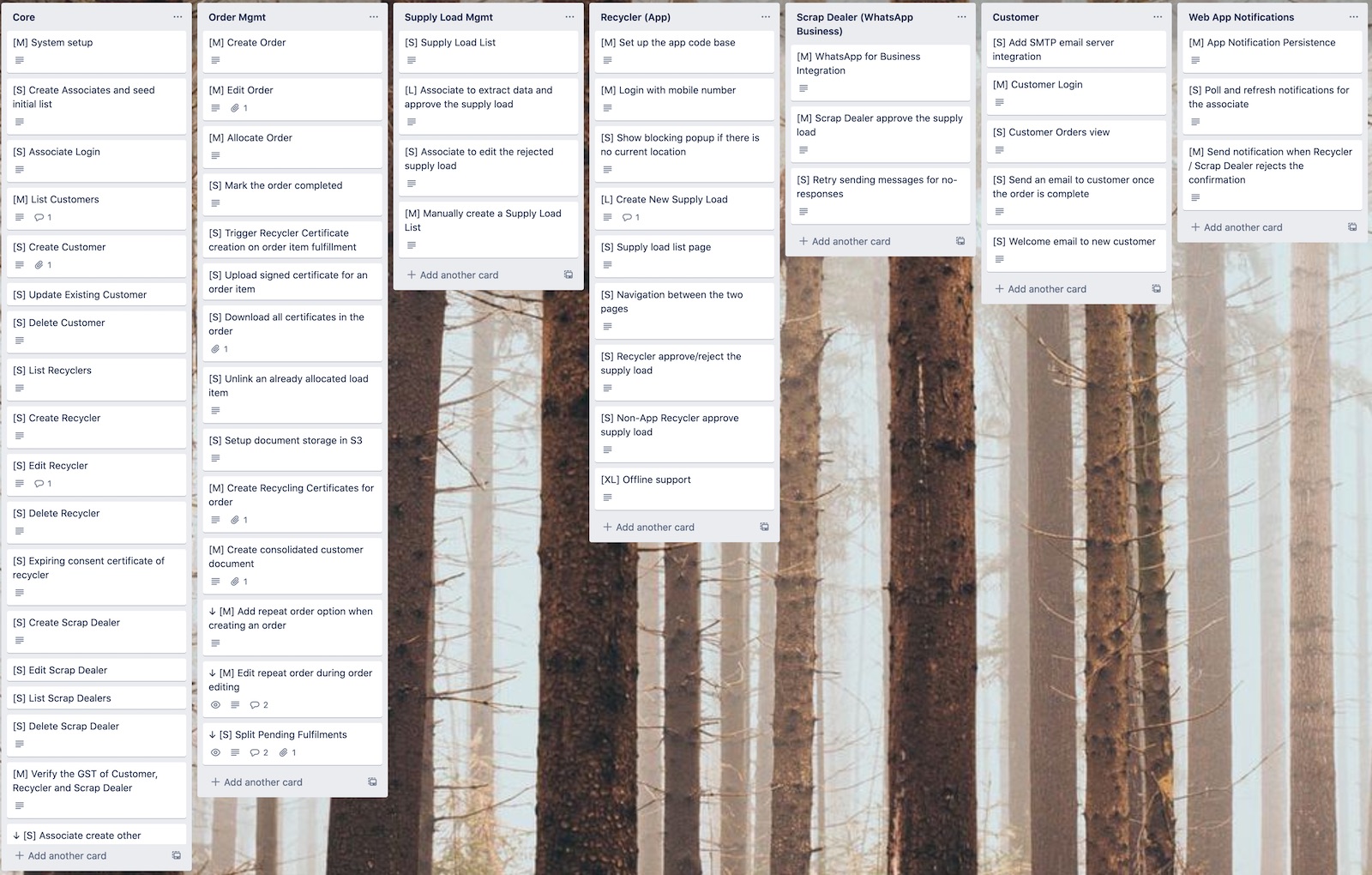 Once we got to this level, It was pretty easy for the team and the founder to understand what effort it takes for a team to build it and depending on the possible parallel development streams, we came up with the range for the cost of building this product
In Retrospect
Overall, the discovery engagement was executed almost as planned and Rahul was happy with this exercise as it is very clear not just for him but also for the investors as what will get build and the cost it takes to build it.